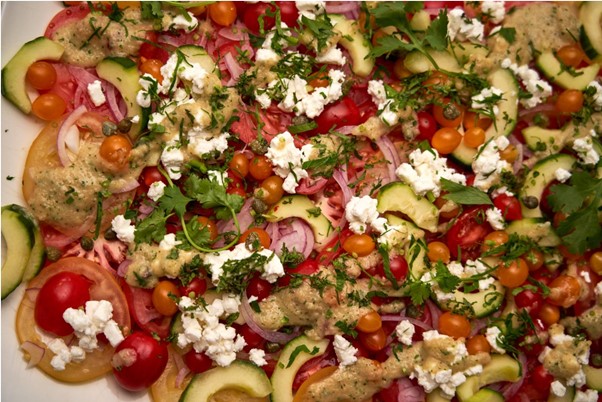 The Ingredients
1kg assorted heirloom tomatoes – cherry and beefsteak

1 medium red onion, thinly sliced

1 cucumber, partially skinned and seeds removed

2 tbsp flat leaf parsley, chopped

2 tbsp basil or coriander, torn

2 tsp mint, chopped

100g hard goat's cheese, crumbled / shaved

2 tbsp baby capers

Salt and pepper to season
For the peach salad dressing
1 large ripe peach, peeled, stoned and chopped

100ml extra virgin olive oil

50ml cider vinegar

1 tsp honey (to taste)

1 tsp parsley and mint

Salt and pepper to season
The Method
For the salad:
Soak the red onion in hot water for about 5 minutes, then remove and pat dry. Slice the beefsteak tomatoes and halve the cherry tomatoes. Slice the cucumber.
To make the peach dressing:
Blitz together all ingredients and check for seasoning, adjusting as necessary.
To serve:
Arrange the tomatoes, onion and cucumber on a large serving platter.
STEP 4
Tip the spinach into the casserole and stir until evenly combined. Return the lid and simmer for another 10 minutes until most of the liquid has absorbed and the rice is tender. It is important to note that this dish traditionally is served quite wet almost soupy.
Scatter over the herbs, capers and crumbled cheese. Drizzle some of the dressing over and serve with the remaining dressing on the side.