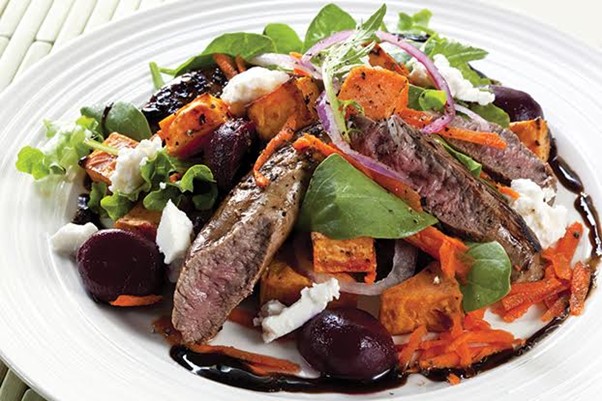 Following the success of the launch of my new TV series, Tastes like Home, sponsored by Londis, I have found myself thinking about what tastes like home to me and my family. Over the coming months I look forward to sharing some of the tastes of my home – Ballyknocken House & Cookery School – with you, and what better dish to start with than Wicklow Lamb Chops? This recipe uses sideloin lamb chops, deliciously tender chops perfect for the griddle, easy to prepare and ideal for a midweek meal full of flavour. It definitely tastes like home to me!
The Ingredients
For the lamb marinade
1 orange zest and juice
1 tsp honey
60ml olive oil
¼ tsp paprika
2 tsp chopped rosemary
4 sideloin lamb chops
For the roasted vegetables
4 medium beetroot, cut into thin wedges
2 small sweet potatoes, peeled and diced
8 small sprigs of rosemary
4 cloves garlic, sliced
Extra virgin olive oil
For the dressing
1 orange, zest and juice
6 tbsp extra virgin olive oil
1 tsp wholegrain mustard
1 tsp honey
For the salad
100g mixed garden salad leaves
A small bunch of chives, roughly chopped
60g feta cheese, crumbled
Salt and freshly ground black pepper.
The Method
STEP 1
Mix all the ingredients for the marinade in a bowl and add the lamb chops. Place in the fridge for about an hour. Remove from the fridge and bring the meat to room temperature (allow for 30 minutes).
STEP 2
Meanwhile preheat the oven to 180°C/fan 160°C/gas 4. Place the beetroot wedges and sweet potatoes on a roasting tray, add the sprigs of rosemary, sliced garlic and drizzle with olive oil. Season with salt and freshly ground black pepper and roast for 15 to 18 minutes.
STEP 3
To prepare the dressing, whisk all the ingredients together in a bowl. Preheat the griddle pan over a high heat. Pat the lamb chops dry, brush with a little oil and season with salt and pepper. Cook on a high heat on both sides, then reduce the heat and cook to your preference (rare, medium etc.)
STEP 4
Leave the lamb chops covered to "rest" for about 3 minutes. To serve, arrange the salad leaves on a serving plate, followed by the warm beetroot wedges and sweet potatoes. Slice the sideloin lamb chops and arrange on top. Spoon over the dressing, crumble over the feta cheese and garnish with chives