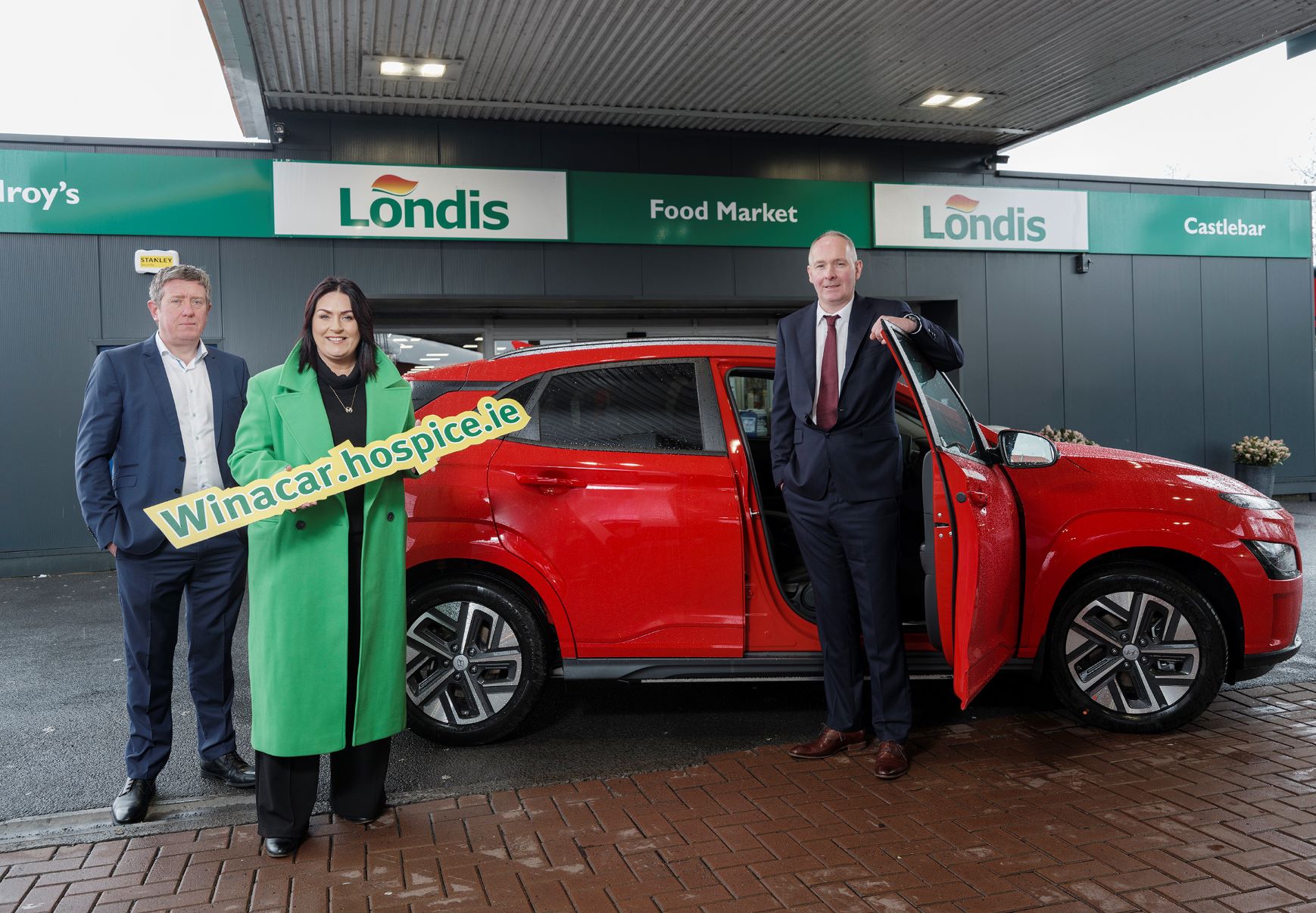 Mulroy's Londis Castlebar Donates Electric Car to Mayo Roscommon Hospice Foundation for Raffle Fundraising Drive – Lucky Winner Will Drive Away in a Car Worth in the Region of €45,000 donated by Londis
24 March, 2023 – Mulroy's Londis Castlebar, owned and operated by local businessman Alan Mulroy, has donated a brand new car, worth in the region of €45,000, to a raffle in aid of Mayo Roscommon Hospice Foundation.
The car, a Hyundai Kona Electric, which features the latest smart tech and drives up to 484km on a single charge, was won by Londis Castlebar at last year's annual BWG Foods Trade Show in Dublin. However, Alan and the rest of the team at Londis Castlebar were determined to share the win with the wider community by supporting a critically important local resource.
All entries into the raffle draw will go towards funding, supporting and developing palliative care services, both in Mayo and Roscommon Hospices as well as their local communities. Mayo Roscommon Hospice Foundation provides palliative care services to people with life limiting illnesses and their families in County Mayo and County Roscommon. Over the past 30 years the Palliative Care Teams have assisted in the care of over 20,000 patients and their families. Both Mayo Hospice and Roscommon Hospice were developed and paid for by fundraised income (a combined €15.5 million) and are a result of the great support received from the people of Mayo and Roscommon.
Commenting on the donation, Alan Mulroy said, "My Londis store in Castlebar and the Mayo Roscommon Hospice Foundation have been in existence since 1993 so I decided there was no better way to help Mayo Roscommon Hospice Foundation in their 30th year, than by donating the car to them in order to help spearhead their major fundraising events. I'm very aware of the brilliant work done by the Mayo Roscommon Hospice Foundation and I am delighted that the car will raise much needed funds for palliative care services in both the Mayo and Roscommon communities. I'd ask that everyone buys a ticket to support them."
Everyone from all over the country is invited to enter the draw. One ticket is €20, three tickets are €50 and six tickets are €100.They can be purchased now from https://winacar.hospice.ie/, in any of the 12 Mayo Roscommon Hospice shops and also in Mulroy's Londis, Castlebar.
The competition closes on June 29th and the winner will be chosen on June 30th in a live draw at Mayo Roscommon Hospice Foundation office in Knock. Entries must be over 18.
-Ends-