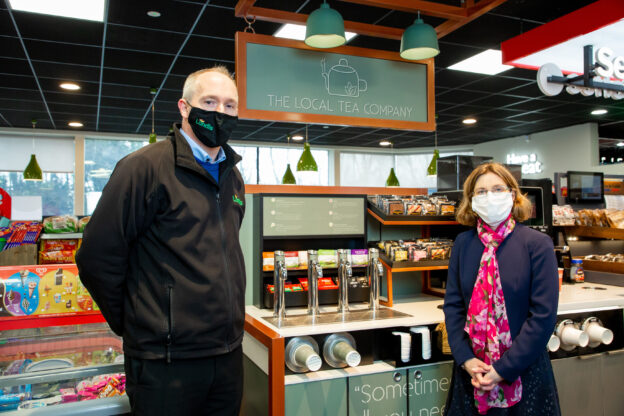 Alan Mulroy Londis Castlebar and Orla Jordan, Head of Innovation, BWG Foods
Mulroy's Londis in Castlebar has become the first in the country to showcase the new branded self-serve tea station from BWG Foods, The Local Tea Company.
The in-store Local Tea Company has been designed in response to growing consumer demand and allows retailers to differentiate their hot beverages offering, especially within the speciality teas category.
Consumer demand for herbal teas with health benefits is constantly growing and with health and wellbeing high on most people's agenda, tea drinkers will now have a dedicated offering to meet their needs. Initially available in Mulroy's Londis in Castlebar, Co Mayo on a trial basis, it is anticipated that The Local Tea Company will be rolled out across the wider BWG Foods' estate in due course, providing customers with plenty of options to help make the perfect personalised cup of tea.
Alan Mulroy said, "We are a nation – and a county – of tea drinkers and everyone likes their brew 'their own way' and now, The Local Tea Company allows our customers to enjoy the perfect cup of tea, which ever flavour that is."
The Local Tea Company will stock a speciality range to include the top tea flavours from around the world to complement traditional Irish tea such as Barry's, Lyon's and Bewley's. With a range of herbal alternatives includes rooibos, peppermint, teas, fruit infusions and green tea also available, the Local Tea Company will truly cater to all.
Commenting, Orla Jordan, Head of Food & Beverage Innovation with BWG Foods, said, "We are very excited about this initiative. The Local Tea Company is our bespoke response to the growing demand for Tea Drinkers to have a dedicated offering to meet their needs. We are confident our offering will prove to be very popular with customers and is already doing so in Mulroy's Londis in Castlebar."