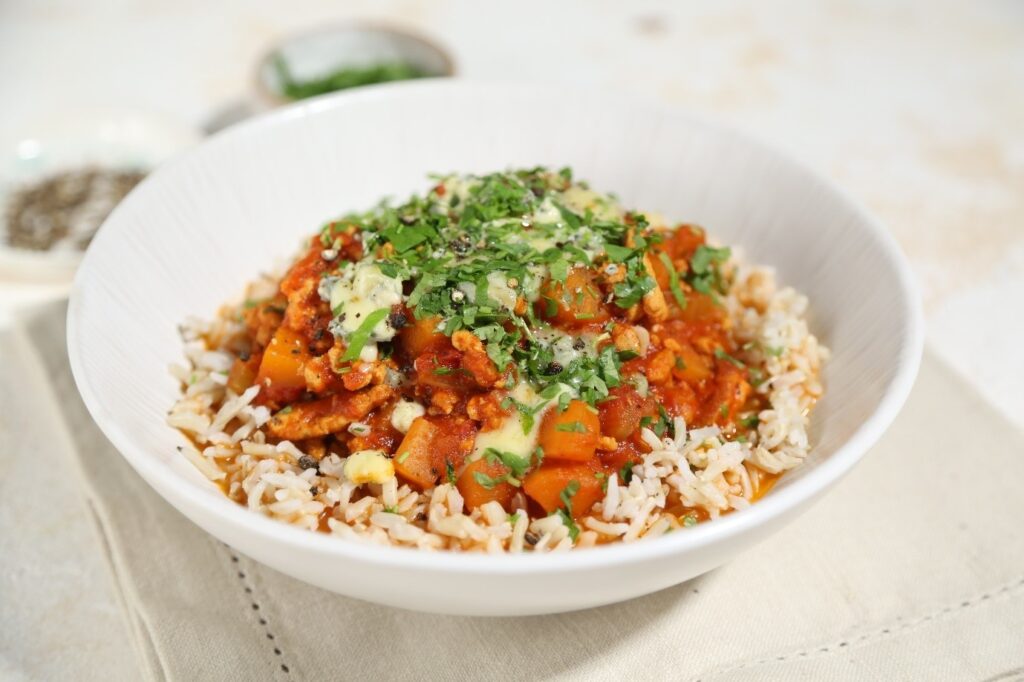 The Ingredients
1 small onion

1 large carrot

2 celery sticks

2 garlic cloves

5g fresh flat-leaf parsley

2 tablespoons rapeseed oil (30g)

250g lean turkey mince

2 teaspoons paprika (ordinary or smoked)

1 bay leaf

2 tablespoons tomato puree (30g)

300ml chicken stock (made from ½ a cube – reduced sodium)

400g tin chopped tomatoes

1 teaspoon hot sauce (such as Tabasco – 5g)

80g wholegrain rice

30g blue cheese

salt (optional) and freshly ground black pepper
The Method
STEP 1
Cut the onion in half, then peel and finely chop. Peel the carrot and dice. Trim the celery and dice. Peel the garlic and crush. Strip the leaves from the parsley and finely chop.
STEP 2
Heat a casserole over a medium to high heat. Add the oil and then add the turkey mince and season with salt (optional) and pepper. Sauté for 5 minutes until lightly browned.
STEP 3
Stir the onion into the turkey mince with the carrot, celery and garlic. Tip in the paprika and bay leaf. Sauté for another 3-4 minutes until the vegetables are catching a bit of colour.
STEP 4
Stir the tomato puree into the turkey and vegetable mixture and cook for another minute, then add the stock and allow to bubble down and reduce, using a wooden spatula to scrape any brown bits from the bottom of the casserole. Add the tomatoes and hot sauce and bring to the boil, stirring. Reduce the heat and simmer gently for 40 minutes until the turkey is meltingly tender and the sauce has nicely thickened and reduced.
STEP 5
Meanwhile, Rinse the rice in a sieve and put in a pan with 250ml of water and a pinch of salt (optional). Bring to the boil, then reduce the heat and cover with a lid. Simmer for 25 minutes and then leave to sit for another 10 minutes for perfectly cooked rice.
Fluff up the rice and divide among bowls and spoon the Buffalo turkey chilli on top. Crumble over the blue cheese and scatter over the parsley to serve.