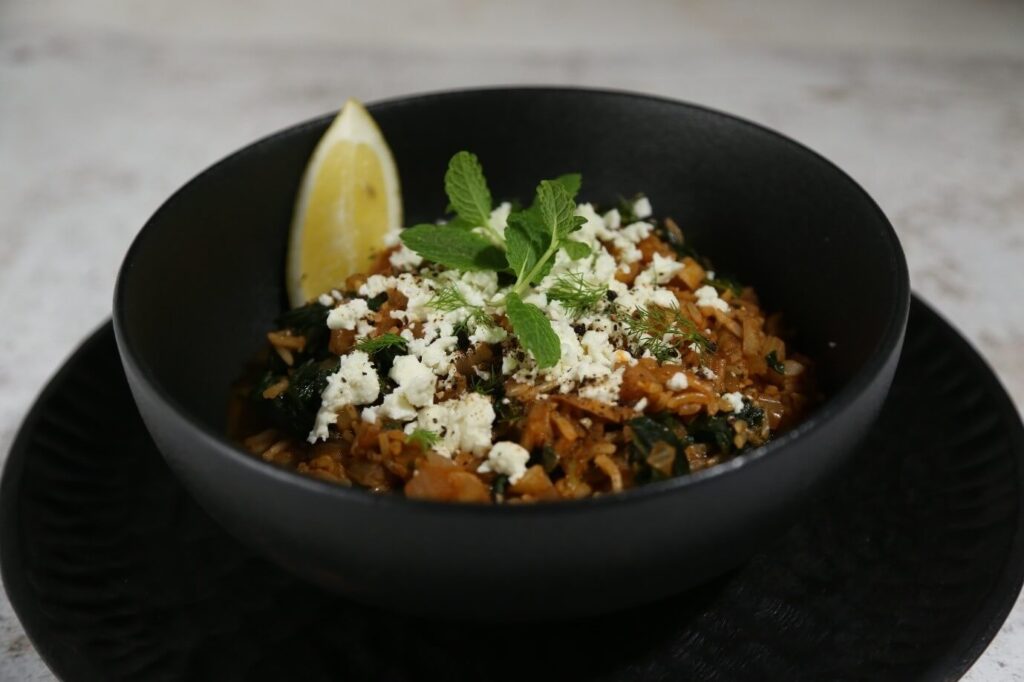 The Ingredients
1 onion

1 small fennel bulb (you'll need about 150g chopped)

2 garlic cloves

10g fresh mint

1 small lemon

½ teaspoon ground allspice

pinch of ground cinnamon

2 tablespoons rapeseed oil (30g)

5 tablespoons tomato puree (85g)

100g brown basmati rice

285g frozen spinach

600ml vegetable stock (from a cube – reduced sodium)

75g feta cheese

salt (optional) and freshly ground black pepper
The Method
STEP 1
Cut the onion in half, then peel and finely chop. Trim the fennel bulb and remove the fronds to use as a garnish. Finely chop the remainder. Peel and crush the garlic. Strip the leaves from the mint and finely chop. Cut the lemon into wedges.
STEP 2
Heat a casserole over a medium heat. Add the oil and sauté the onion and fennel for 4-5 minutes until softened. Season lightly with salt (optional) and freshly ground black pepper. Stir in the garlic, allspice, cinnamon and most of the mint, reserving a little to garnish. Sauté for another minute.
STEP 3
Stir in the tomato purée and cook for 1 min, mixing in well with the beef and vegetables. Tip in the chopped tomatoes. Fill each can half full with water to rinse out any tomatoes left in the can, and add to the pan. Add the honey and season to taste. Simmer for 20 mins.
STEP 4
Tip the spinach into the casserole and stir until evenly combined. Return the lid and simmer for another 10 minutes until most of the liquid has absorbed and the rice is tender. It is important to note that this dish traditionally is served quite wet almost soupy.
STEP 5
Divide the spanakorizo between bowls and crumble over the feta cheese. Garnish with the remaining mint and fennel fronds and some freshly ground black pepper to serve.