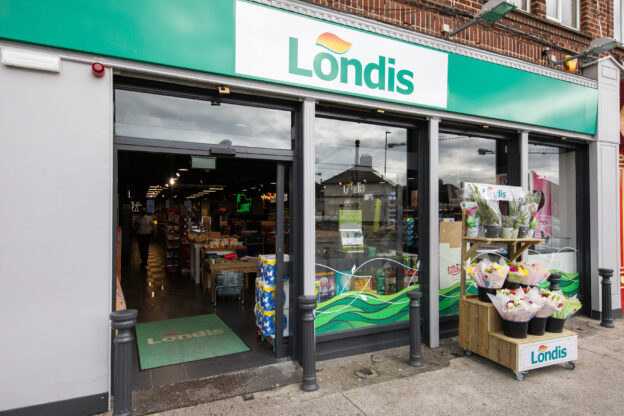 Everyone will soon be familiar with Londis Cabra from our exciting new advertising campaign, which was filmed at the store. It is the latest acquisition of the Dublin based Glennon Group owned and operated by brothers John and Eddie Glennon.

The Glennon Group was established in 1990 when a previous employee of BWG Foods, John Glennon, acquired a convenience store in Artane. Shortly after this acquisition, Eddie joined his brother in retail ventures, which has included other symbol store in the BWG Foods' family.
Londis Cabra is the second Londis store opened by the retail veterans in Dublin City. The first store in East Wall joined the Londis group in 2019.

Turned Key
The Glennon Group turned the key on the Londis store in December 2019, just four months before the Covid-19 pandemic changed the retail landscape. Londis Cabra was previously owned and operated by Ray and Eileen Sheehan who also own Londis Parkgate Street and before that by Tony Prenderville and his family who served the local community in Cabra for over two decades.
Londis Cabra is a 2,468 square feet store is now set to maximise fresh food sales with the addition of a new Subway counter, Bia Blás Deli, Smooch ice-cream counter and Insomnia Coffee machine. This investment in fresh food is a new departure for the store, which has historically boasted a large dry grocery range predominantly.

Community demographic
The community demographic on Fassaugh Avenue is elderly and retired people in the majority, while the store stocks a core dry grocery range for this demographic there has been a pivoted since the acquisition.
The store is attract a younger shopper to the store. There are schools in the local area and it is hoped they will be enticed into the newly revamped store by the fresh food offerings. Professionals are also a target for the store with freshly brewed coffee and freshly prepared high quality food a crucial element to attracting these potentially new customers.

John Glennon believes food on the go is now the backbone of convenience retailing. The introduction of food concessions in Londis Cabra means the store is on course to pass 25% of the business from fresh. No easy task for store who serves over 1000 customers each day.

Will customers pay on a premium fresh food?
John is on the fence here and believes the jury is out on this trend. The Covid-19 pandemic has changed consumer preferences and they are now more discerning about their purchases and are constantly seeking value. Customers' priorities are not as clearly defined as they were prior to March 2020.
Many office workers are now working remotely and drop into stores to purchase something convenient for lunch. These are the same workers who previously purchased lunch in subsidised canteens and now see this meal as expensive in comparison. While there are customers who view fresh food as expensive there is an underlying move towards customers will pay more if the product is right.

Does John believe there is a change in food preferences?
In the past two years, since the advent of Covid-19 there has been a definite change. This change is difficult to identify and varies greatly between stores. In one store, purchasing patterns have changed in one direction and in a second store, patterns can have changed in the total opposite direction.
For example, convenience products have dropped off in some stores while grocery picked up and in other stores grocery has dropped back and convenience has picked up. There is no definitive answer to how preferences have changed.

Changing Landscape
Covid-19 has absolutely changed the retail landscape and store performance across the country and, in this, Londis Cabra is no exception. Londis Cabra experiences an increased in sales in Lockdown One and as time has passed and restrictions reduced, the sales boost has levelled off and returned to pre-pandemic sales numbers. The store has been under construction recently and John explained it is difficult to isolate which has contributed more to the return to pre pandemic sales. Sales remaining significantly strong in the store.
The revamp of Londis Cabra changed the layout of the store, increased the size of the off-licence, expanded the deli offering and introduced the Subway and Smooch concepts. To allow the space for these concepts introduction the dry grocery offering was reduced in size. A core range remains to ensure the elderly local community can find the products they require each day. These customers remain exceptionally important to the store.
How did the store manage to trade through the revamp?
Trading through the revamp proved challenging particularly with Covid-19 restriction in place. John emphasised the revamp was managed very well by the BWG Foods team particularly Tara McHugh, Retail Development Manager who led the project throughout. The revamp was completed in eight weeks from start date to completion.

Challenges of Retailing
Retailing is a fast-paced environment, which presents day-to-day challenges. John identified two specific challenges, which are particularly challenging now. The first is shoplifting, particularly in urban areas. The second is rising insurance costs. Insurance prices have been steadily increasing over the past number of years and a have reached a high rate annually. John noted grounds for optimism with Government guidelines regarding insurance pay-outs which will hopefully become legislation later this year.

Favourite part of retailing?
John outlined a love for trading no matter what aspect discussed, a passion for discovering new products and bringing them to market in the communities in which Glennon Group stores operate. Serving communities across Dublin over the past 30 years is a particular source of pride.