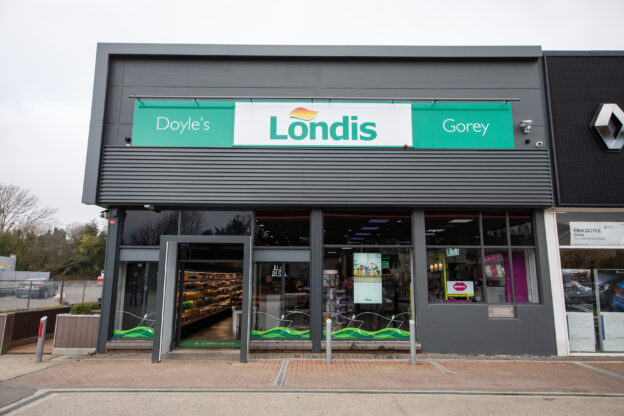 The origin story behind the revamped Londis Gorey is a fascinating one. What was once a commercial van sales room for the Renault franchise business run by Stephen Doyle's father and uncle is now a thriving convenience store and forecourt operation.
For Stephen, the recently unveiled impressive 2,856 sq ft (increased from 1,733 sq. ft) is the realization of a longheld ambition to establish Londis Gorey as the shopping destination of choice for the locality. He's gone a long way to realising this ambition as Londis Gorey is truly resplendent with the increased footprint proving immediately popular with local customers and passing trade.
Stephen's story is unique. In 2009, while working in construction, he identified an opportunity to rejuvenate the old van showroom, which had fallen empty due to the recession and reinvent it as a convenience store.
"It was in the middle of the recession, not too many vans were being sold and I saw the potential in the site and approached my father and uncle. They were receptive and we rent from them, which lends itself to what is a strong family business," explained Stephen.
Big step
Leaving the construction industry with no retail experience was a big step to take – "I had talked to a lot of retailers and called to many stores prior to opening but had never worked in retail prior to opening the shop. In hindsight it might have been better to have gained experience in a store first instead of jumping straight in, but when I saw the opportunity I didn't slow down."
Stephen took to his new career immediately. Engaging with the public, the fast pace of the industry and the excitement of realising an ambition have helped enormously in his establishing Londis Gorey's reputation.
The store located on the busy Carnew Road benefits from passing trade, offering travelling customers a range of services, which include the Circle K branded fuel pumps, Bewley's coffee, Smooch ice-cream, Dunkin Donuts and a fantastic Bia Blás Deli.
Freshly made salads prepared daily have been a particular highlight over the past number of months.
In total, Stephen reveals, the fresh offerings in Londis Gorey account for 25% of the business.
Students
Students provide a large customer base for the store on a weekly basis, with over 2,000 transactions daily a large proportion of those transactions are made by students who attend a secondary school close by.
"We have hot counter deals for students and try to always have specific confectionery and mineral deals in place aimed at students, which helps encourage them to come back to us regularly."
Weekend trade differs greatly as students take a well-earned break, the local community who typically live within a 3 to4 km radius indulge greatly on the weekend, which results in bakery and confectionary sales uplift. Stephen stressed the performance of the aisle line as a particular highlight and welcome addition to the store.
Price conscious customers
Despite the fantastic sales uplift, Stephen outlined consumers remain price conscious. Particular areas like fuel must have competitive pricing. He also referenced margin, which he believes has increased on minerals and confectionary when compared to pricing over the past two years.
"Fuel pricing must always remain competitive."
Covid-19 has changed the landscape of stores across Ireland and Londis Gorey is no different.
Hand sanitiser stations are placed at the front door and next to all customer touch points, social distancing protocols, floor tape and posters hall been erected in-store and digital screens in the front window are utilised to highlight the strict protocols in place.
Providing a safe shopping environment
Customers have regularly commented to Stephen of their feeling safer in Londis Gorey due to the location on the outskirts of town and the excellent social distancing precautions, which have been executed in-store.
Trading through a revamp can be difficult for every store but add a global pandemic to the mix and an incredibly taxing challenge evolves. A challenge Stephen and all his staff faced together. The store revamp was approached in a novel way, construction was completed in sections.
Once a section was finalised, it was opened to customers. Stephen felt this allowed his customers to engage with the new store developments as they could see the vast improvements being made over time. Customers were intrigued with developments rather than inconvenienced with construction.
Overcoming Covid-19 delays
Construction on the new Londis store started in February 2020 and was completed in September 2020. Multiple delays caused by Covid-19 restrictions slowed down the progress of the store fit. Stephen paid great compliment to Declan Boyle, Londis Regional Development Manager, Kevin Donnelly, Store Retail Development Manager and Barry Carty, Head of Retail Development for their support throughout this process.
Covid-19 not only extended the construction time of the new shop it also changed the purchasing habits of customers. Stephen identified multiple points of differentiation; grocery sales increased, confectionary sales increased particularly, with weekend trade. Stephen notes customers were stocking on treats rather than deli compared to pre pandemic sales. Albeit Bia Blás deli sales remain strong as customers have indulging while hospitality remained closed.
Customer loyalty
Loyalty is now a tremendously challenging task as customers having more choices than ever before both in-store and online. Stephen believes offering an excellent service to his customers each and every day is crucial to building loyalty with customers in his local area. This is something Stephen thoroughly enjoys as part of his everyday duties in-store.
"Delivering excellent customer each day is crucial. Customers are looking for fresh tasty food at affordable prices and with so much competition around Gorey we need to keep ahead of the rest," he added.
Loyalty is not the only challenging task Retailers face at the moment, Stephen identified finding staff as the biggest challenge. Multiple businesses are competing for the same staff particularly during the summer months when businesses can be much busier with tourists who visit the area.
Stephen and his staff in Londis Gorey plan to continue improving the store and product offering as consumer purchasing patterns diversify over the coming years working closely with Londis.